Ann Morrison played Mary Flynn, one of three main characters in the original production of Stephen Sondheim's 1981 cult favorite musical, We ride happily, directed by Hal Prince. The story of this original production and its aftermath was touched upon in Lonny Price's 2016 documentary The worst thing that could have happened. As good as The best worst thing that is, its 96-minute runtime meant that a lot of interviews and memorabilia had to be left on the cutting room floor. (To date, no DVD containing hours of additional footage has been released.)
To help clarify some issues arising from the non-use of these images, Morrison has compiled Ann Morrison: Joyfully Center Stage, which debuts May 17 at Feinstein's / 54 Below and can also be streamed live. Morrison recently spoke with Newsweek about the creation of this show and his memories of Sondheim, Prince and happily and what happened after that production.
Like most of happilyMorrison was a longtime Sondheim fan. His earliest conscious memory of his work is West Side Story whose lyrics he wrote. She said Newsweek"At 7 years old, I had the whole show choreographed, staged and costumed. Western coast, I wanted to be Puerto Rican. Next was Gypsyso Follies and then Company. My parents were college professors of theater with a focus on musical theater, so I had all the cast albums for everything. "The first Broadway show she saw" was Company, and we sat in the mezzanine of the Alvin Theater, where We ride happily played later."
When asked why and how she put on this show, Morrison said Newsweek"Well, actually, to be honest, one of the reasons I do the show is because of the documentary. I teased myself so much about it. One thing people said was, 'So your son was born by immaculate conception?' There is no mention of a father. Just, all of a sudden, there's this kid. And the other thing I was teased about was, "So you left the company to work with people with special needs?" A lot of people thought I had left the company because there was so much stuff on the editing room floor. Originally, the documentary was going to be about all of us. Then Lonny decided to do a bit of everyone but focus more and more on the five of us[—Morrison, Price, Sondheim, Prince and actor Jim Walton]. At some point, Lonny wanted to retire and just be the director. And then he found all these images. So some cast members never got their interview."
Found Images, Lost Stories
In The best worst thinglong-lost footage for a TV documentary about happily which has never been broadcast is found. This changed the orientation of the documentary. The stories of the cast members in the present interspersed with footage of them in their youth give the documentary poignancy; it also echoes the plot happily, which is told in reverse chronological order. This is especially true at the end of the film, which shows footage of all the cast members being told they've been hired, which is ironic considering how the musical was received. While the film benefited, many good stories were lost.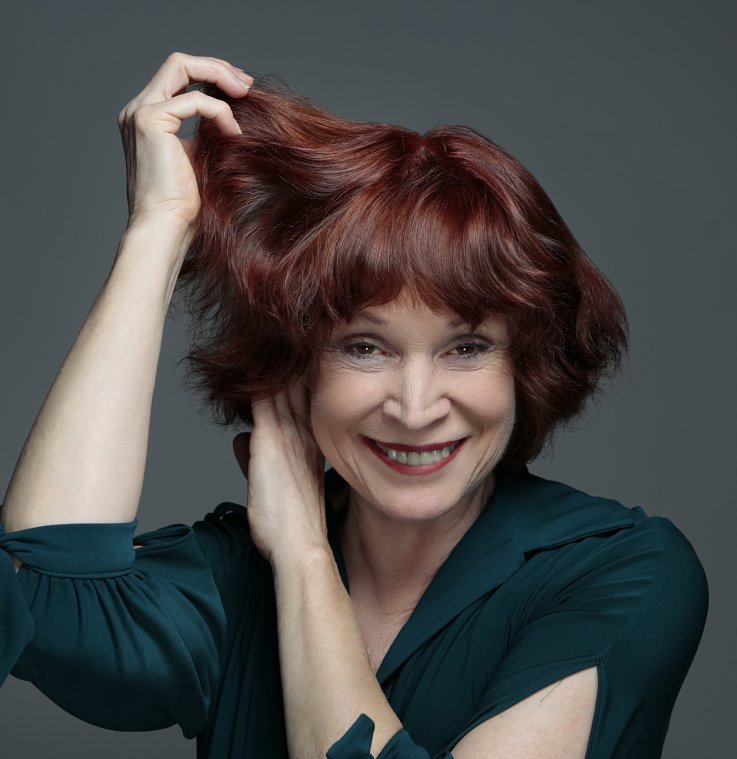 Ann Morrison talks about the now-cult 1981 Broadway flop "Merrily We Roll Along" and what happened after it closed in her new cabaret show "Ann Morrison: Merrily From Center Stage," at Feinstein's/54 Below .
Morrison said Newsweek, "For me, it was weird because I'm not at the beginning of the documentary. My story started later. So, I said. 'Maybe it's a good time to talk about it. floor of the cutting room.' And that's kind of what happened. In my show, I sing the score of happily— not everything, otherwise we would be there for two hours — but a lot. My shows are always more of a play. I don't sing a song, I don't say who it was written by and then I tell a little anecdote about it. This show is like a little musical.
"I select certain things that seem important to me. I say from the start that I am not a historian. It does not interest me that much, because you can read that in a book. am more interested in what I felt.
A book on happily that Morrison highly recommends is Facing the Music: A Broadway Memoir by happily his teammate David Loud. She said, "There are about four chapters in the series. Such a great perspective from her point of view."
Tracking memory
Morrison said Newsweek that his show "is almost how we track memory, and because we only remember what we remember last, that's what makes it fun for me. I can only tell the story "from the last layer, the last time I remembered it. So, it's really more of an emotional memory. I allow myself to be very vulnerable. I usually do anyway, and it makes me go.
"I can tell stories about Ron Field, because for some reason I was his confidante," she said Newsweekin reference to happilyThe original choreographer of who was fired for creative differences during previews. "He told me everything.
"So it's been really deep to put that together. And I just did a rehearsal last night because I'm going to do it in front of a few people tonight just to get a feel for what it's like to do in front of people. ' other people . And I looked at the pianist, and I said, 'What kind of monster did I just create?'"
As seen in The best worst thing a lot of happily was written and rewritten over and over again during the first run, not to mention several other key productions over the years. People were fired, the plot changed, and songs were cut. But Mary Flynn's role got bigger and Morrison got more songs.
"I didn't cut any material," she said Newsweek. "If anything, some things that were cut were given to me to do. On my show, I talk about that when I talk about what happened when we started rehearsals. I tell it through the music, and I tell it through storytelling. And the show goes really fast. Oh my god, you gotta be careful. That's how I like to do the shows. Yeah, I added stuff. And then sometimes other people would have their songs cut, and then something had to be given to Mary to flesh things out."
Old friends
Morrison spoke to Newsweek about happily she was in: the happily on Broadway, before experiencing so many incarnations. "The point of the whole story of happily It's not about giving up, deciding to change careers or making compromises. It really is a question of friendship. I mean, for me, what was so fun about being in New York is that we developed these great friendships and some of them are your friends forever. But friendships change and people in your friendship make different decisions about things and what impact does that have? So, watching the show roll back, you stay focused on all three of them. At the end of the play, or when they're on the roof [which occurs just before the final scene in that production], you can see how people made the choices they made and how friendships change. The idea that this is how Franklin Shepard sold himself because he wanted to get into movies – everyone in the business can do both acting and movies. That's not the goal, the focus is on friendship.
"It feels like things just started and how they fit together can inform the rest of your life."
Last Lasting Impressions
Asked about her last memories of Sondheim, "One of my last photos [in my mind] I have Steve's at Hal Prince's memorial service. Because Lonny, Jim [Walton] and I was asked to perform "Old Friends" for that. I saw [Prince's wife and daughter] Judy and Daisy Prince, and I said, 'Why are you asking us to do this? Merrily was not a successful show for him. And Daisy said: 'But the 'Old Friends' number is all about my dad. And I said even the fight in the middle of it all said a lot about my dad. I said, 'Okay.' So we went on stage, and it was a surprise. And the public went crazy, because it was almost 40 years old. We did the original choreography, and so my last memory is saying thank you to Judy and Daisy, and there was Steve dragging his feet because he was so scared he was going to fall. And he looked at me and he said, 'Annie!'"
As for Prince, Morrison said: "Hal became Uncle Hal, and was Uncle Hal until the day he died for me. He brought me back to New York to do LoveMusik [a musical with a book by Alfred Uhry, with music by Kurt Weill]. He always wanted to make stars. It was his thing. I remember having coffee with him. Because every time I was in New York, I would go to Prince's office and have coffee and chat. He was always interested in what I was doing, what I was writing next and my next solo piece, and my pieces and so on. I said, 'How do you guys do it again? Everyone comes out of college, they all look alike. They all look alike. And he said, 'Honey, you and I are dinosaurs. When I started I wanted to be stars, and now I have to have a TV star and someone else to play. I'm not even the star of my own shows.'"
Not a day goes by that Sondheim and happily fans don't think of the musical that spawned a generation of obsessives. So stories like these will be taken from The best worst thingthe editing room floor, assembled and shared with them by Morrison on stage and online in Ann Morrison: Cheerfully center stage.
Now you know.
Ann Morrison: Joyfully Center Stage is live at Feinsteins/54 Below Cellar 254 West 54th Street, New York, May 17. For tickets and live stream information, go to 54Below.com/Artists/Ann-Morrison.